No Barriers Veterans Opportunity from CoBank and Menard Electric Cooperative
The 2023 program is closed for nominations. Message us if you'd like to be included in a future program - look for updated information in March/April 2024.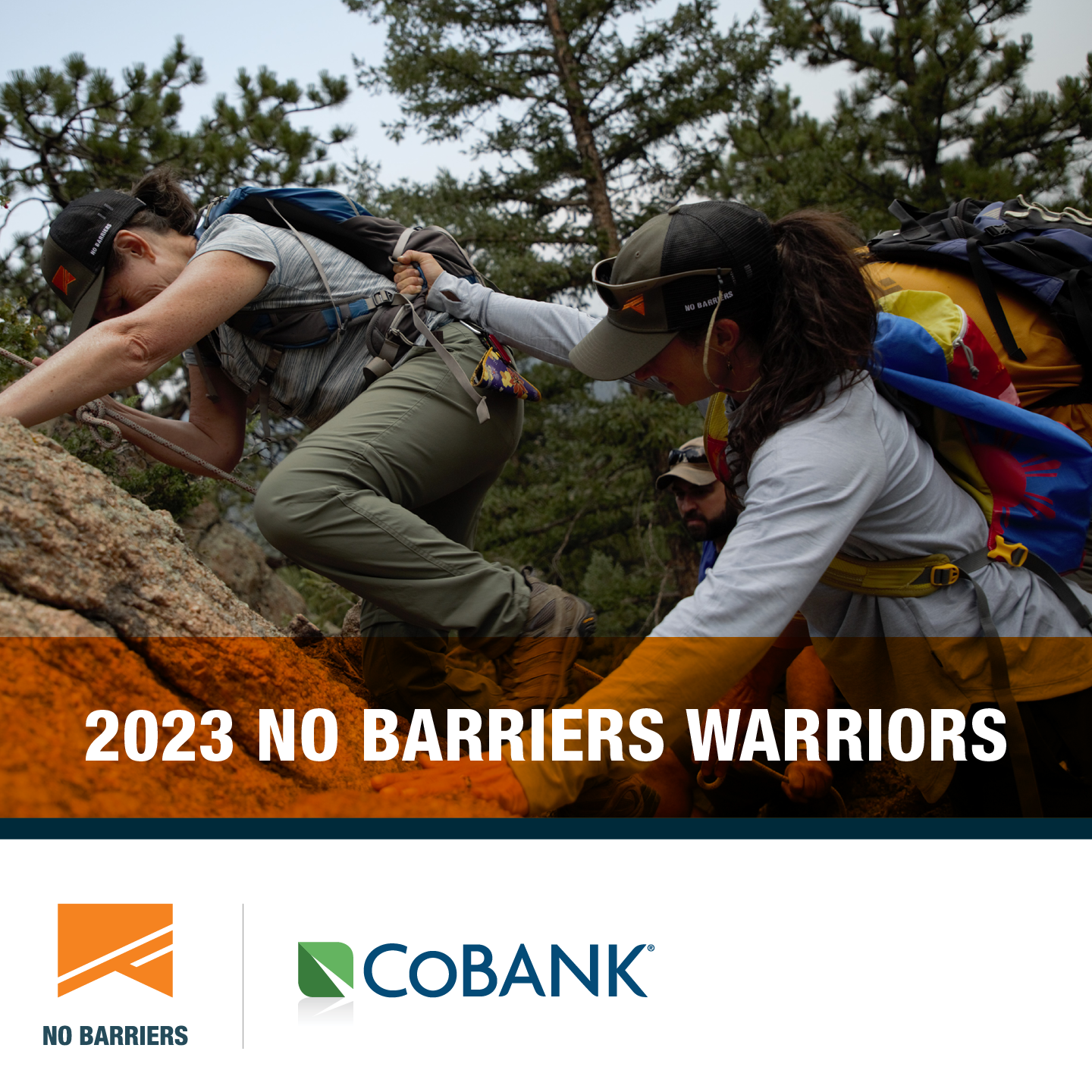 For over five years CoBank, a cooperative bank serving rural infrastructure providers including us at Menard Electric Cooperative, has joined forces with nonprofit No Barriers USA to honor and support the millions of Veterans in America's rural communities with service-related disabilities.
We are invited to nominate veterans from within our service territory for the No Barriers Warriors Experiences, a program designed to help Veterans with visible and invisible disabilities transform their lives through curriculum-based experiences and create a network of support that can last a lifetime. If selected for the CoBank/No Barriers program, CoBank will cover all costs for the participating veteran, including travel expenses.
Each CoBank-sponsored No Barriers experience includes a combination of online learning modules and meetups, as well as an expedition in the Colorado wilderness. Experienced staff and expedition leaders guide participants through a series of physically and mentally challenging experiences that can include rafting, rock climbing, hiking and more. Throughout the experience, veterans are asked to reflect on their past, recognize their present situation and explore future possibilities.
Veterans unable to participate in an in-person expedition are eligible to participate in virtual opportunities such as "Warriors At Home," an eight-week at-home course that connects veterans through facilitated conversation and activity assignments, or "Warriors Connect," featuring quarterly guest speaker presentations. Whether they participate in person or at home, veterans will have the opportunity to explore the "No Barriers Life" and, in the process, transform their own lives.
"I could never thank No Barriers enough for helping me get back my life. All I can do is try my best to pay it forward." - Eric, No Barriers Warriors participant
No Barriers Experiences Available
No Barriers experience includes focused online training to learn the No Barriers Life Elements and connect with their team/rope team before the expedition as well as support to accomplish goals set on the trip after they return home.
CoBank will sponsor three moderate-level expeditions that will take place July 6, August 1 and September 6. These 5-day basecamp expeditions will involve rafting, rock climbing and trekking activities. Activities are specifically designed to accommodate participation by veterans with a wide array of abilities.

A backcountry expedition will be offered July 13. This 6-day backcountry expedition will involve a more physically challenging, backcountry itinerary and a mountain summit attempt.
Is a CoBank/No Barriers Expedition for You?
Are you a veteran from any branch of the U.S. armed forces?

Do you suffer from a service-related disability, whether visible or invisible?

Do you have a VA disability rating?

Are you interested in challenging limitations and overcoming obstacles?
"A disproportionate number of men and women in the U.S. armed services come from rural communities," said Thomas Halverson, president and chief executive officer of CoBank. "In recognition of their service, CoBank and our customers are again partnering with No Barriers to offer meaningful and life-changing experiences for veterans with disabilities. It is one way we can give back to those who have sacrificed for their country through military service."
Message us at info@menard.com if you'd like to be nominated!
About CoBank
CoBank is a cooperative bank serving vital industries across rural America. The bank provides loans, leases, export financing and other financial services to agribusinesses and rural power, water and communications providers in all 50 states. The bank also provides wholesale loans and other financial services to affiliated Farm Credit associations serving more than 76,000 farmers, ranchers and other rural borrowers in 23 states around the country. CoBank is a member of the Farm Credit System, a nationwide network of banks and retail lending associations chartered to support the borrowing needs of U.S. agriculture, rural infrastructure and rural communities. Headquartered outside Denver, Colorado, CoBank serves customers from regional banking centers across the U.S. and also maintains an international representative office in Singapore.
About No Barriers USA
A non-profit organization based in Colorado, dedicated to helping people of all abilities find hope, optimism and resiliency for the future. Whether in our personal lives, at work, or in our communities, we all face challenges that can prevent us from living our best lives and reaching our full potential. No Barriers believes that what's within you is stronger than what's in your way. No Barriers empowers people of all walks of life to overcome obstacles, live a life of purpose, and give back to the world, all through their groundbreaking curriculum, the No Barriers Life. Learn more about the inclusive roadmap to break through challenges, build community and find strength through adversity at nobarriersusa.org.